Tire Rotation Service near Oklahoma City, OK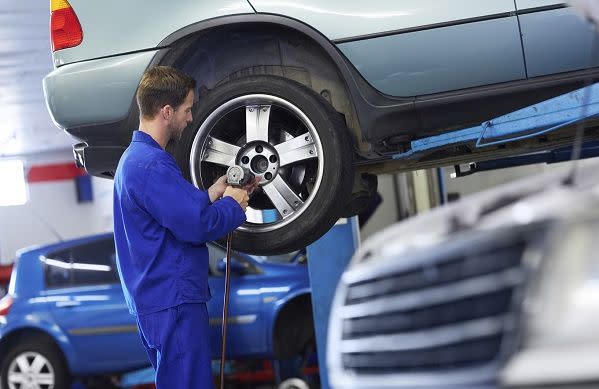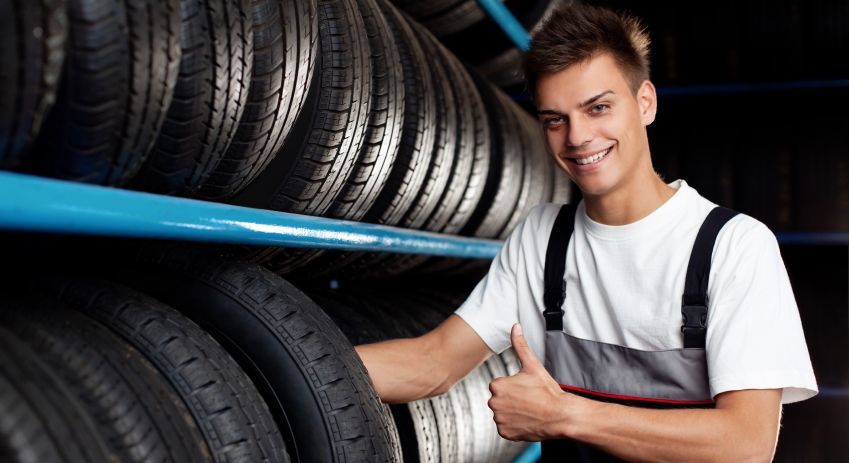 It's important that you get the most life out of your vehicle as possible. One big way that you can do this is by keeping up with the various maintenances that need to be performed every so often. One such service is rotating your tires so you can put off buying new ones for a while. Our Service Department at David Stanley Auto Group is more than capable of handling all of your service needs, so stop by any one of our convenient locations today!
If you've never gotten your tires rotated before, then you may not be familiar with what is involved in this service. Our mechanics will simply move your rubbers to a different position on your car or SUV to ensure that the wear and tear is evened out. When taking sharp turns or braking suddenly, the tread on your front tires will run smooth before the rear ones because they are doing most of the work up front. You need to rotate your tires so that they can wear evenly. That way, when it does come time to replace your rubbers, you can take advantage of buying all four tires as part of a bundle deal, rather than just purchasing two at a time.
You can save both money and time when you decide to come into David Stanley Auto Group for a tire rotation. Our expert technicians will not only take a peek at your rubbers, but they will also inspect your oil levels, brake pads, and even your air filter to make sure that you're good to go. If you're wondering how often you should get your tires checked, the general rule of thumb is every six months. This timeline, of course, depends on your driving habits, yearly weather conditions, and other factors. For a more accurate estimate, we recommend that you consult your Owner's Manual.
We want to make your experience with us as hassle-free and convenient as possible, which is why we have three different locations for you to visit with service hours six days a week. You can schedule your appointment in person and request the next available time, over the phone, or through our website. Keep some of your hard-earned money by taking advantage of our current coupons and special offers.
No matter what model you drive, our mechanics at David Stanley Auto Group will be able to complete a tire rotation service near Oklahoma City, OK. Schedule your appointment as soon as today. We hope to become your first choice when it comes to taking care of your vehicle!
Testimonials
On Point!
Googole
10-31-2016
Friendly & Knowledgeable
CARS
10-31-2016
Service Department Proficient
Facebook
10-30-2016
Bought a New Tahoe
CARS
10-29-2016
Made a Good Friend!
Facebook
10-27-2016
Amazing Salesman
Google
10-26-2016
Enjoyable Buying Experience
CARGURUS
10-26-2016
Exceptionally Pleased!
Google
10-26-2016
Quickest No Hassle Purchase
Facebook
10-24-2016
Super Helpful
Facebook
10-23-2016
Couldn't be Happier!
Facebook
10-19-2016
Awesome Job Hunter!
Facebook
10-18-2016
Best Prices! Best People!
Facebook
10-16-2016
wonderful job getting me into a car.
David Stanley Kia
11-18-2015
Excellent and exciting experience
David Stanley Chevy
11-18-2015
He made me feel welcome
David Stanley Chevy
11-18-2015
My experience was great and painless!
David Stanley Chevrolet of Norman
11-18-2015
very helpful getting us into the car we wanted.
David Stanley Kia
11-17-2015
I LOVE my NEW 2016 Chevy Cruze!!! :)
David Stanley Chevrolet of Norman
11-15-2015
Excellent service
David Stanley Kia
11-15-2015
Read More